Tarangire Camp

Class & Comfort in the Exceptional Northern Tanzania Wilderness.
Honeyguide Tarangire Camp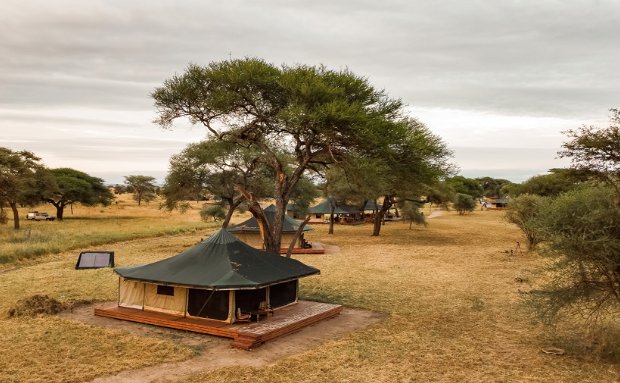 Honeyguide Tarangire is a beautifully presented luxury tented safari camp set in the breathtaking wilderness of Tarangire National Park. With just ten well-spaced tents, all generously proportioned, Honeyguide Tarangire offers an exclusive and immersive African safari experience. What's more, each tent comes with its own large veranda, taking full advantage of the spectacular surrounding savannah landscapes.
The camp's position in the north of Tarangire National Park places guests perfectly to enjoy an authentic African bush experience. The park is famed for its massive herds of elephants, vibrant birdlife, and distinctive baobab trees.
In a secluded corner of Tarangire National Park, the camp has a stylish and comfortable feel, as well as being unfenced, which allows the animals to pass through camp, making Honeyguide Tarangire ideal for all adventure-loving clients.
Families with small kids will feel very well taken care of with super-spacious tents and staff that go above & beyond for each guest. Offering luxury in a secluded game-rich environment at exceptional value, this unique one-off camp is a must for any safari enthusiast's itinerary.
Gallery
Camp Details
Accommodation
Honeyguide Tarangire comprises ten large tents, each of which can accommodate three adults, or two adults plus two children. The camp is set in a grove of umbrella thorn trees, with panoramic views. Each of the tented suites looks directly onto the plains, with a generous veranda allowing incredible game viewing. Daybeds with scatter cushions provide the perfect spots for reading and afternoon naps. 
Enjoy an all-inclusive safari experience at Honeyguide Tarangire Camp.  
Quick Facts
Tent capacity: 3 adults or 2 adults plus 2 children  
(all en-suite) 
Minimum age: None 
Tent size: 48 square metres 
Space between tents: 20–30 metres 
Power: 220/240 Volts AC. Available 24/7 and provided by solar panels, with back-up generator 
Showers: Fully plumbed with hot water powered by solar, with a booster if needed 
Toilets: Flushing loos in all tents 
Mosquito nets: Provided over beds plus mosquito-proof netting around tents 
Safe storage: Safe lockable box in each tent 
Telephone/internet: Airtel & Vodacom Local Networks 
WiFi: Available in the rooms only 
Babysitting: Available by prior arrangement 
Hairdryers: Available by request from reception 
Laundry: Service provided at an extra charge for guests staying longer than 1 day 
Outdoor and bush dining: By arrangement 
Catering for special dietary requirements: With advance notice 
Private 4x4 safari vehicle: Available at an extra charge 
Please note that there is no swimming pool at the property 
Offsite Activities
Hot air balloon rides 
Maasai Cultural Tours 
Local school visits 
Directions
The camp is located in the northern part of Tarangire National Park, only a 15-minute drive from the main park gate (see the map below). Its convenient position means guests can land at Kilimanjaro International Airport in the afternoon and arrive at the camp in Tarangire only three hours later. The GPS coordinates are: 3 deg 43 min 42.24 sec South, 35 deg 59 min 4.83 sec East. 
Journey times to key destinations: 
Arusha – 2.5 hours 
Manyara – 45 minutes 
Karatu – 1 hour 15 minutes 
Ngorongoro Gate – 1 hour 45 minutes 
Ngorongoro Crater Floor – 2 hours 30 minutes 
Journey times to airstrips: 
Kilimanjaro – 3 hours 
Arusha – 2 hours 
Kuro (Tarangire) – 1 hour 
Manyara – 1 hour 
Rates
Rate Inclusions
Included in your rate is: Full board & accommodation at Honeyguide Tarangire Camp including, soft drinks, beer, wine, and local branded Spirits, coffee & tea throughout the day NB: Park Fees must be paid at the entrance of the Park (US$53 per adult & US$18 per child). Camping Fees must be paid at the entrance of the park ($59 per adult & $18 per child). The TDL of $1.5 per person per night must also be added. Exclusions: Laundry, Champagne, and premium branded spirits, Park Fees, Camp Fees, medical evacuation and Tourism Development Fee. Any additional charges you may incur during your stay are for your own account and to be settled upon departure of the camp.
Dietary Requirements
Should you or a member of your travelling party have any dietary requirements, please be sure to advise us in advance so that we can cater accordingly.
Allergies
We respectfully request we be advised of any allergies of our guests in advance so that staff onsite are aware thereof.
Child Policy
Children are welcome at Honeyguide Tarangire Camp. There is no charge for children aged 0 - 4 years of age. Children aged 5 – 12 years of age are charged 50% of the adult rate. Children over the age of 12 are charged as adults.