Mantobeni Camp

An oasis of luxury amidst the untamed beauty of the surrounding Kruger wilderness.
Honeyguide Mantobeni Camp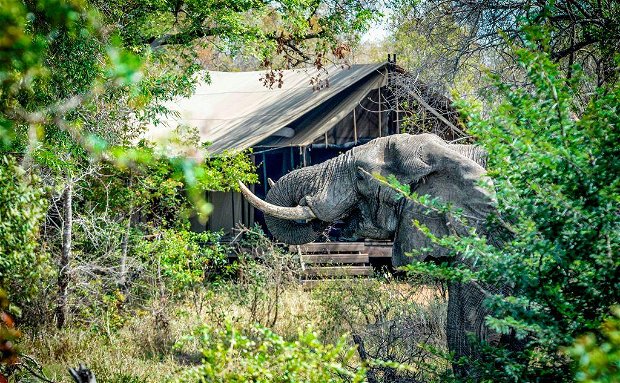 The Manyeleti Private Game Reserve is home to Honeyguide's two luxury tented camps, Honeyguide Khoka Moya Camp & Honeyguide Mantobeni Camp. Experience the true magic of the African bush at Honeyguide Camps. Designed to blend in with the wilderness, this luxury tented safari camp is found in the Manyeleti Private Game Reserve, the reserve shares unfenced borders with the Kruger National Park and is in the heart of Big 5 country.
Relax in the large open-air bar area overlooking the local watering hole & wildlife or lounge on our sun loungers by our infinity pool while our daily elephant visitors visit the camp for the fresh pool water, a memory that would last a lifetime. The camp provides guests an idyllic setting in which to relax, refresh & reconnect.
Gallery
Camp Details
Accommodation
Our camps have been designed and constructed in such a way as to have minimal impact on the environment and features eco-friendly facilities and amenities. The luxury safari tents are spacious and airy, the canvas walls and roll-up flaps inviting the outdoors in.  
 
The 15 tented suites create an experience that is rugged yet luxurious along with open air En-suite bathrooms, large beds with quality linen, and private decks that look out onto the bushveld make your tented room your own personal oasis in the wilderness. 
 
Gauze tent flaps & mosquito nets offer protection from mosquitoes while allowing the cool breeze and sounds of the bush to gently lull one to sleep. 
 
Honeyguide Camps is unfenced, so do not be surprised if you hear the whoop of hyenas, the lions contact calling or the sounds of elephants roaring through the camp.  
 
The Mantobeni Camps luxury tents are elevated on a wooden platform, the tent furnished for maximum comfort and provides extra-long queen/twin size beds. 
 
Daily housekeeping and turn-down services are included, ensuring our guests' absolute comfort. 
Quick Facts
Tent Capacity: Up to 4 Adults 
Accommodation Type: Full Board 
Number of Tents: 15 Tents 
Size of Tents: 45 metres squared 
Distance from Khoka Moya Camp: 5kms 
Electricity in tent: Yes 
Children Friendly: No 
Minimum Age: 12 years old 
WIFI: Yes, at main areas 
Max No of guests: 36 persons  
Airport Transfers: Available 
Catering for special dietary requirements: With advance notice 
Infinity Pool: Yes 
Safe storage: Safe lockable box in each tent 
Laundry: Service provided at an extra charge for guests
Bush walks are charged at an extra cost. No U/18s allowed 
Offsite Actvities
Blyde River Canyon Nature Reserve: 
Blyde River Dam Boat Cruise: 
Panorama Route, Graskop
Directions
Honeyguide Tented Safari Camps are situated in the Manyeleti Private Game Reserve. You will arrive at the Honeyguide Khoka Moya Camp and complete check in procedures & safety briefings, you will then be escorted to your accommodation by our staff.  
 
By car from Johannesburg or Pretoria: 
 
Honeyguide Tented Safari Camps is approximately 6 hours' drive from Johannesburg.  
 
From Johannesburg (R22), proceed towards Belfast. Exit the N4 at the Belfast intersection, enter town and turn right at the second stop sign in the direction of Dullstroom (R540). 
 
Continue to Lyndenburg via Dullstroom. In Lyndenburg turn left and take R36 to Origstad. Continue in the direction of Hoedspruit via Abel Erasmus pass and JG Stijdom Tunnel. 
 
Shortly after crossing the Blyde River, turn right in the direction of Orpen/Swadini (R531). Approximately 10km further, do not take the right turn to Swadini but continue straight in the direction of Klaserie. Continue pass Klaserie and turn left at the Orpen signpost and continue until you see the Manyeleti Reserve sign (approximately 36km). Turn right to enter the reserve and follow the Honeyguide Tented Safari Camp signs. 
 
By car from Hoedspruit: 
 
Honeyguide Tented Safari Camps is approximately 40 minutes' drive from Hoedspruit Airport. 
 
From Hoedspruit Airport, travel south on the R527 towards Klaserie & continue past Klaserie, turn left at the Orpen signpost and continue until you see the Manyeleti Reserve sign (approximately 36km). Turn right to enter the reserve and follow the Honeyguide Tented Safari Camp signs. 
 
GPS Coordinates:  
 
24°32'06.9"S 31°24'00.4"E 
Rates
View 2023 Rates  View 2024 Rates
SADC Residents
Experience Africa's most sought-after safari camps at reduced rates for local citizens.
If you hold a passport from a Southern African country or are a resident, you may qualify for highly discounted SADC rates.
These discounts become available and vary from time to time, so do inquire with our reservations team(cres@albatros.co.za)for updated specials, and be sure to state your nationality.
Rate Inclusions

Included in your rate is accommodation, 3 meals (consisting of breakfast, lunch & dinner) and 2 game drives per day.
Morning safari drives include a hot beverage and late afternoon/evening drives include a sunset drink.
Any additional charges you may incur during your stay are for your own account and to be settled upon departure from the camp.
Daily conservation fee
Bush Walks*
*Bush walks are charged at an extra cost:
Bush Walks(in exchange for a game drive): 3 hours (Morning/Afternoon) - R500pp
After breakfast walk: 1.5 hours – R500pp
No U/18s allowed on bush walks 
Dietary Requirements

Should you or a member of your traveling party have any dietary requirements, please be sure to advise us in advance so that we can cater accordingly.
Allergies
We respectfully request we be advised of any allergies of our guests in advance so that staff onsite are aware thereof.
Daily Planner
This is a rough itinerary of the guests' daily experience whilst staying at Honeyguide Tented Safari Camps. There may be occasions whereby these times are not exact due to varying circumstances.
05h30: Guests are awoken with the beating of traditional drums. Tea/coffee and rusks are then served before guests meet at reception to go on their game drive.
06h00: Morning game drive – duration 3 hours approx. Snacks & tea/coffee are offered during the game drive.
09h30: Breakfast. During the course of breakfast, guests will be offered the opportunity of partaking in a Bush Walk with a ranger/s pending the number of pax interested. The Bush Walk is strictly for persons aged 16 years and older. Junior bush walks can be arranged around the camp perimeter for children under the age of 16.
14h00: Lunch.
16h00: Afternoon game drive – duration 3 hours approx. Snacks & soft drinks are offered during the game drive.
20h00: Dinner. This is a communal meal with guests sitting outside (weather dependent) interacting with each other and the rangers. The chef will present the menu to all guests once seated.
Our check-in time is 14h00 and our check-out time is 11h00.
Children Policy
Children all ages are welcome at Honeyguide Khoka Moya camp. There is no charge for children aged 0 - 2 years of age.
Children aged 2 – 12 years of age are charged 50% of the adult rate. Children over the age of 12 are charged as adults
Children of all ages are permitted on game drives at Khoka Moya Only. Babysitting facilities are available, subject to availability.
No children under 6 allowed on Game drives
Rate Exclusions
We do advise our guests that excluded from our rates are an R75.00 community levy per person. This is a once-off charge per stay.
Private Vehicles:
A private safari allows you to explore the reserve at your own pace while focusing on your special interests at the cost of R2500-00 per vehicle, per drive (10pax)