Ranger Camp

An Extraordinary Family Safari Holiday
Honeyguide Ranger Camp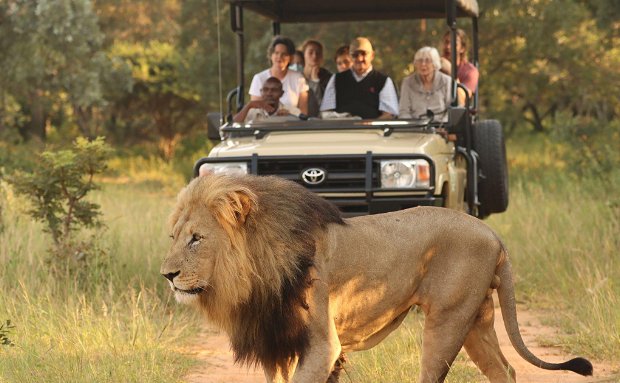 Honeyguide Ranger Camp located in the Entabeni Safari Conservancy, rightfully dubbed "The Place of the Mountain", is situated in the World Heritage Waterberg Biosphere. Approximately a three-hour drive north of Johannesburg, this 22 000-hectare malaria-free reserve boasts five eco-systems. 
Ranger Camp offers a unique blend a luxury tented safari camp and African wilderness, perfectly set in different immaculate locations of the reserve. Our camp is child friendly with kids' activities including full game drives (over 6 years old) and junior bush walks.
Offering unprecedented intimacy, Honeyguide Ranger Camp's guests have exclusive access to the vast area's abundant animal paths, hidden valleys, riverbeds, and towering peaks. The camp offers breath-taking wildlife experiences, including the Big 5, rewarding bird watching, superb cuisine and service excellence.
Gallery
Camp Details
Accommodation
Experience the warm friendly atmosphere of the Limpopo Bushveld at Honeyguide Ranger Camp, a mere 3 hours' drive from central Johannesburg. 
Ranger Camp consists of 15 luxury tents, complete with 220v electricity and en-suite bathrooms with open air showers.  
The tents are evenly spread apart and surrounded by Waterberg bushveld for privacy, but don't be surprised if you catch a glimpse of our resident warthogs scattering though the camp.  
The hide & library section of the camp is ideal for relaxing in between the guided activities on offer. Take a dip in the pool, sip on a drink from the bar, or relax with a book from the library, all while enjoying the views of the waterhole. 
Honeyguide's Ranger Camp include all the luxuries required by today's traveller while experiencing all the comforts of home in the heart of the Limpopo Bushveld. 
Quick Facts
Max Tent Capacity: 2 adults & 2 kids 
Accommodation Type: Full Board 
Number of Tents:  
11 Standard Tents 
2 Family Tents 
2 Deluxe Tents 
Size of Tents: 60 meters squared 
Distance from Johannesburg: 3 Hours 
Electricity in tent: Yes 
Children Friendly: Yes - - Honeyguide Ranger Camp accommodates children of all ages 
Minimum Age: Any Age 
Babysitting: Available, with prior arrangement 
WIFI: Yes, at main areas 
Max No of guests: 45 persons  
Airport Transfers: Available 
Swimming Pool: Yes 
No children under the age of 6 are allowed on Game Drives. - After breakfast Junior walk /drive for 1:30 min offered for children under 6 – must be accompanied by Parents, Subject to availability 
Offsite Activities
Helicopter Rides 
Hot Air Ballooning  
Horseback Riding
Airport Transfer Rates
2023: For transfers between O.R. Tambo International Airport and HGRC, the rate is R 4590.00 for one-way travel (R 9180.00 for a round trip), accommodating 1-8 passengers.
2024: In 2024, the rate for transfers from O.R. Tambo International Airport to Honeyguide Ranger Camp is R 4860.00 for a one-way journey (R 9720.00 for a round trip), accommodating 1-8 individuals.
We require confirmed flight details to book the transfer/s, subject to availability.
Directions
Directions from Johannesburg/Pretoria 
 
Honeyguide Ranger Camp 
 
Take the N1 North Highway from Pretoria to Polokwane (Pietersburg). Keep on the N1 through the Carousel and Kranskop Tollgates. Travel a further 32km on the N1. Take the Mookgopong (Naboomspruit) R101 off ramp. Drive 8km to Mookgopong (Naboomspruit). 
 
Drive straight through the town of Mookgopong on the R101A (29km) until you reach the Doorndraai/Sterkrivier turnoff. Turn left and continue for 22km until Haakdoring turnoff. Turn left and continue for a further 10km on a gravel road until you reach a circle. Turn left at the circle and travel 6km on a gravel road, turn right at the Ranger Camp sign. 
Rates
View 2023 Rates View 2024 Rates
SADC Residents
Experience Africa's most sought-after safari camps at reduced rates for local citizens.
If you hold a passport from a Southern African country or are a resident, you may qualify for highly discounted SADC rates.
These discounts become available and vary from time to time, so do inquire with our reservations team(cres@albatros.co.za)for updated specials, and be sure to state your nationality.
Rate Inclusions

Included in your rate is accommodation, 3 meals (consisting of breakfast, lunch & dinner) and 2 game drives per day.
Morning safari drives include a hot beverage and late afternoon/evening drives include a sunset drink.
Any additional charges you may incur during your stay are for your own account and to be settled upon departure from the camp.
Dietary Requirements

Should you or a member of your travelling party have any dietary requirements, please be sure to advise us in advance so that we can cater accordingly.
Allergies
We respectfully request we be advised of any allergies of our guests in advance so that staff onsite are aware thereof.
Daily Planner
This is a rough itinerary of the guests' daily experience whilst staying at Honeyguide Tented Safari Camps. There may be occasions whereby these times are not exact due to varying circumstances.
05h30: Guests are awoken with the beating of traditional drums. Tea / coffee and rusks are then served before guests meet at reception to go on their game drive.
06h00: Morning game drive – duration 3 hours approx. Snacks & tea / coffee offered during the game drive.
09h30: Breakfast. During the course of breakfast, guests will be offered the opportunity of partaking in a Bush Walk with a ranger/s pending the number of pax interested. The Bush Walk is strictly for persons aged 16 years and older. Junior bush walks can be arranged around camp perimeter for children under the age of 16.
14h00: Lunch.
16h00: Afternoon game drive – duration 3 hours approx. Snacks & soft drinks offered during the game drive.
20h00: Dinner. This is a communal meal with guests sitting outside (weather dependent) interacting with each other and the rangers. The chef will present the menu to all guests once seated.
Our check-in time is 14h00 and our check out time is 11h00.
Children Policy:
Children are welcome at Honeyguide Ranger camp. There is no charge for children aged 0 - 2 years of age.
Children aged 2 – 12 years of age are charged 50% of the adult rate. Children over the age of 12 are charged as adults. Babysitting facilities are available, subject to availability and with prior notice.
Rate Exclusions:
We do advise our guests that excluded from our rates are an R75.00 corporate social responsibility fee (CSR). This is a once-off charge per stay.
Any additional charges you may incur during your stay are for your own account and to be settled upon departure from the camp.